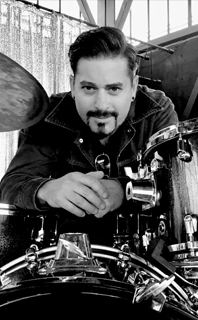 Ric "Rocc" Roccapriore
Ric "Rocc" Roccapriore is an American drummer. Born in New England and currently living in Los Angeles, Ric studied at The Berklee College of Music in Boston, MA and The Drummers Collective in New York City. After moving to Los Angeles in 1999, Ric landed his first gig with Even Rude, a pop punk band that was featured on Tony Hawk's Pro Skater video game that sold millions of copies.
Ric's talent, work ethic and love for all styles of music have allowed him to sustain a successful career, including tours with Edgar Winter, Sophie B. Hawkins, Engelbert Humperdinck and now Berlin. Ric has also performed concerts with Jason Mraz, Latin Legends Malo and El Chicano, Alison Sudol (A Fine Frenzy), BC Jean, Elan Atias (The Wailers), Cowboy Troy and American Idol finalist Carmen Rasmusen. Ric owns Dexter Studios LA and is an accomplished engineer and producer.
Ric proudly endorses Evans Drumheads, Vic Firth Drumsticks and Ultimate Ears in-ear monitors.