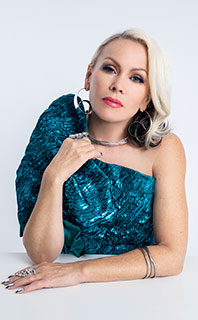 Terri Nunn
Multi-platinum recording artist and songwriter, Terri Nunn started her career as an actress and then became a music icon. In 2019, Nunn was honored by the WIMN – Women's International Music Network - with the Icon Award. That same year, she celebrated her 40 year anniversary with Berlin, having joined the band in 1979.
When Berlin's suggestive single "Sex (I'm A...)" debuted on radio stations in 1982, Nunn's blunt, X-rated dialogue provided a refreshing alternative to the frigid, robotic singing of the then-current crop of synth pop artists, mainly men. The critics were outraged, but Nunn's looks and vocal range helped Berlin create a cult following on MTV, especially with the music videos for "The Metro" and "No More Words." "Although we didn't realize it at the time," Terri recalls, "Berlin's sound was part of the start of modern electronic music in America. That sound has morphed into industrial, trance, electroclash, EDM and a lot of pop music today."
In 1986, Berlin topped pop radio with "Take My Breath Away" from the Top Gun soundtrack. A top 10 hit around the world, the song also won the Academy Award and Golden Globe award for Best Song in 1987. During a lengthy hiatus from Berlin to "get a life," Terri collaborated with other artists such as Andrew Eldritch for The Sisters of Mercy top 40 UK hit "Under The Gun" and appeared in the Jane's Addiction film "Gift." Nunn recruited new musicians to resurrect Berlin in the late '90s. In 2000, they released Berlin Live: Sacred & Profane, followed by the EPs, Fall Into Heaven 1 & 2. In 2003, the full-length studio album Voyeur was released, and in 2005 came 4PLAY. In 2009, Berlin released a live comprehensive DVD/CD package entitled ALL THE WAY IN, and in 2013 the studio album, Animal, became their biggest in 20 years. Its team included producer/writer John King from The Dust Brothers (Beck, The Beastie Boys, Rolling Stones, Fight Club).
In 2016, Terri reunited with original band members John Crawford & David Diamond. Teaming with ARIA award-winning production team, Andy & Thom Mak, they released their 4th studio album together, Transcendance in August 2019.
Nunn's ongoing influence has earned her the #11 spot on VH1.com's "100 Greatest Women in Rock. As a songwriter, she won the BMI TV Music Award for "Best Series Theme Song' for the MTV series, Angela's Eyes. As an actress, she played multiple leading roles in television and films including Katie: Portrait of a Centerfold with Kim Basinger, and Thank God It's Friday with Jeff Goldblum and Debra Winger. And as a DJ, along with comedienne, Wendy Liebman, Nunn also hosted the critically acclaimed radio show Unbound with Terri Nunn on 88.5 FM KCSN Los Angeles for two years.
Terri lives in Southern California with her husband and daughter. You can find Terri Nunn on Facebook, Instagram and Twitter.